When talent meets luck and bravery.
A man from Champagne who was falling in love with Bordeaux…
History
A young man who broadens his horizons!
Francis M. Delage junior, born in 1806 in the famous Champagne region, found his true passion in Bordeaux wines. In the year 1821, he created and named his first wine Lestissac, in honour of his forefathers originally from the small village Estissac, in the Aube Department.
Atthe age of 16, Francis decided to move to Bordeaux to discover the spirit of this winegrowing region. His first moments were quite difficult, as he did not own his own vineyard. Fortunately, a cellar master, a friend of the family, found him a small estate in Bordeaux, and some equipment, in turn introducing him to the art of viniculture. The first wine he created was a single 225 l barrel of Lestissac, an assemblage created from the grapes of Merlot, Cabernet Sauvignon and Cabernet Franc, the three famous grape varieties of Bordeaux. After the fermentation process he left the wine in an oak barrel for 9 months, in order to release all the aromas of the grapes, in the meantime taking care to design personally all of the labels. His first attempt at the production of wine sold out in a matter of weeks. Thanks to his unique talent, combined with his passion for the Bordeaux terroir and the nature, everything what he took into his own hands was a great success.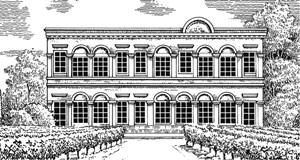 One year later he inherited a Chateau near the town Bordeaux from his great-grandfather Francois Delage, and started cultivating vines in a professional way. This was the beginning of a fast moving success story. Through word-of-mouth recommendation, the story of the young man with an extraordinary talent for making wines was diffused very quickly in the region. Delage was ambitious, and his passion was to create a delicious, exceptional and impressive range of wines; into them he transferred all his power, passion and love. In time, success in Bordeaux wasn't enough for him, so he travelled further afield to present his wines in neighbouring regions- at this time, a difficult and dangerous process. The young man used a carriage, drawn by a horse, to reach different parts of the country.
Finally, his efforts were rewarded with success, as he met an investor who helped him to increase his resources by buying him a wine cellar. He then became more successful still, increasing the size of his vineyards, the scale of his wine production growing to meet demand.